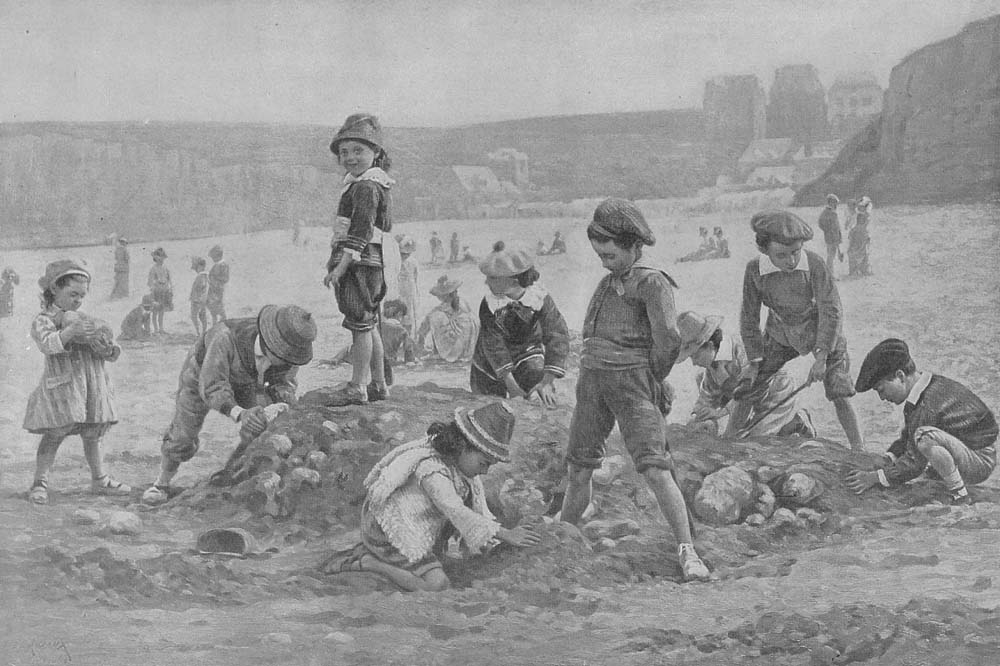 This scene is taking place in Veules-les-Roses near Dieppe (Normandy-France) in 1878. The children made a group of friends on holiday. The little girl on top of the hill (my great-grandmother) is Marie-Louise MARCHAND (1874-1958) who married Maurice CLOSON. Her brother Camille MARCHAND (1870-1891) is the big boy who is supervising the jobs with his legs wide open. He's looking at a little girl, daughter of the painter Timoleon LOBRICHON (1831-1914). The little boy with the striped jacket on the left of the picture is Lucien RUDAUX, son of the painter, who will become later an astronomer. The boy with the big hat and the other boy on the extreme right are sons of the painter Henri TEVENIN (Rene is a writer and Leon a novelist).

Toilers of the Sea painted in 1879 by Edmond Adolphe Rudaux, 1840-1914

He was a French painter Rudaux.
His son Henri Edmond Rudaux also became a famous painter.

Many painters painted pictures and called them Toilers of the Sea . This one is by Albert Pinkham Ryder and it shows fishermen in a boat.

The paintings were probably based on a novel written in 1855 by Victor Hugo.