WORD MATCHES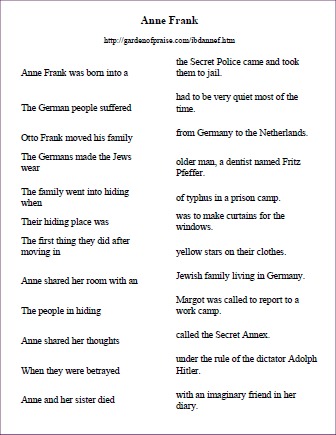 These word matches were created to accompany the Biographies for Kids that appear on Garden of Praise.
You may print them off and make copies for your students to use. They will draw lines to
connect the beginning of the sentence in the left-hand column to the words
that complete the sentence in the right-hand column
BIOGRAPHIES FOR KIDS
Word matches on these pages courtesy of


Armored Penguin.com



We'd like to thank the webmaster of Armored Penguin for making these puzzlemakers available to people free of charge. We have used their site for years to make Word Scrambles, Crossword Puzzles, Word Matches, and Word Searches to accompany the lessons at Garden of Praise. I copy the puzzles, put them into word documents, and then turn them into PDFs. Please visit and support their website.

Thank you, Armored Penguin!