Ten Commandments
Memory Pegs

Memory pegs are unusual pictures or images used to help a person remember things. These memory pegs will help the children to remember the Ten Commandments. (The King James Version is in red and the New International Version is in blue.)

You have permission to print copies of the color posters
or the black and white 10 Commandment posters for your children to color.
We only ask that you not print them to sell for profit.

Thou shalt have no other gods before me

You shall have no other gods before me.
God must have first place in our lives. Some people make money their god, and some put fame or entertainment ahead of the one true God.


Color poster
Black and white poster
Thou shalt not make unto thee any graven image.

You shall not make for yourselves an idol. The 2 is bowing down as if to an idol. This causes us to remember that commandment two forbids idol worship.

Thou shalt not take the name of the Lord thy God in vain.

You shall not misuse the name of the Lord your God. We see an angry 3 saying inappropriate words. A simple "yes" or "no" is sufficient. God's name must be spoken with reverence.

Remember the sabbath day to keep it holy.

Remember the Sabbath day by keeping it holy. The temple is shown by the 4. The Jewish people worshiped in the the temple or the synagogue, and they did no work on the sabbath day.

Honour thy father and thy mother.

Honor your father and your mother. The 5 has a crown on it. Parents are held in high esteem when their children honor them as God directs.

Thou shalt not kill

You shall not murder. The 6 shows what happens when people resort to violence to settle their conflicts. God wants us to settle our differences in a peaceful manner.

Thou shalt not commit adultery.

You shall not commit adultery. We see a man and his family. He is not to also have a girlfriend with whom he betrays the love of his wife. An X has been placed on the "other woman" beside the 7.

Thou shalt not steal.

You shall not steal. God wants us to respect the rights of others. We must not take money or anything else that does not belong to us.

Thou shalt not bear false witness against thy neighbor.

You shall not give false testimony against your neighbor. The wagging tongue on the 9 is telling lies about his neighbor. God wants us to always speak the truth to one another.

Thou shalt not covet.

You shall not covet. We must not want what others have. The 10 reminds us that a person must not always be thinking of "ME", but must learn to think of the welfare of others.




Song: The Ten Commandments
The Ten Commandments Bible Story



Jesus when asked about the greatest commandment said:

LOVE GOD WITH ALL YOUR HEART

LOVE YOUR NEIGHBOR AS YOURSELF





If you love God with all your heart:



You will place Him above other things.
You will worship Him only.
You will use his name in a reverent way and not say it lightly.
You will reserve a time to worship Him.





If you love others as yourself:



You will love and respect your parents.
You will never intentionally harm another person.
A husband or wife will be true to a spouse.
You will observe the property rights of others
and not take anything that does not belong to you.
You will speak the truth about others and not say hurtful things about them.
You will be content with what you have and not be wanting what others have.






| | |
| --- | --- |
| | I have used these memory pegs for about 15 years to teach children the Ten Commandments. They are not original with me. I would like to hear from the person who created them, so that I can give credit where credit is due. If you are the originator of this set, let me know. If you have a set for sale, I will remove the masters from this site and send people to you to buy a set. |
The Ten Commandments, Bookmarks, 25
By Broadman / Holman Church Supply

On the back of these ten commandment Scripture bookmarks is a quote from former chief justice Roy Moore's book, So Help Me God. "There is no question who the God of the ten commandments is and what his impact has been on our nation. Those who grew up under the teaching that the God of the Bible is the God on whom America was founded should be concerned at the modern attempts to make us deny that truth. That truth was known from the time the Pilgrims left the Mayflower, to the time when our nation began more than 150 years later, through the Civil War, World War I, World War II, Korea, and Vietnam, and until only recently—when it has become politically correct to ask whose God is the foundation of America."
The Ten Commandments, Coloring Book
By Warner Press

The Ten Commandments is a coloring book for ages 4-7 based on Exodus 20:3-17. This coloring book helps childr en learn the actual commandments found in the Bible as well as understand their meaning. The pictures are designed for children to enjoy as an adult helps read the story.
Kids Ten Commandments 1-5 DVD Gift Set
By George Taweel, Rob Loos & George Taweel / Tyndale Entertainment

The voices of Peter Strauss (Massada), Paul Winfield (Touched by an Angel), Jodi Benson (The Little Mermaid), and guest stars Tim Curry (Wild Thornberrys), Rene Auberjonois (Little Nemo), Lou Diamond Phillips (The King and I), John Schneider (Smallville), and Tom Bosley (Happy Days), bring to life the Kids' 10 Commandments animated mini-movie series. Kids learn biblical values through this entertaining and educational series utilizing state-of-the-art animation. Closed captions. 5 DVDs, approx. 30 minutes each.
Ten Commandments, Ages 7-11
By Mary Tucker / Teacher Created Resources

Use ten comprehensive lessons to introduce children to the Ten Commandments. Stories, discussion questions, and memory verses are accompanied by puzzles, crafts, songs, rhymes, and other activities to help children discover important truths about each commandment. Softcover, 48 pages.
Hand Commands: The Ten Commandments for Little Ones
By Ann Dunagan

Children and adults alike can learn hand motions to go along with each of the Ten Commandments. It's an interactive and fun way for parents and teachers to help little ones discover the Ten Commandments using simple hand motions they will remember. Recommended for ages 5 and under.

(The book cannot be ordered because it is no longer in print. This is a link to the instructions.)
All the material at Garden of Praise is free without subscription.
If you have benefited and would like to help maintain the site, use the button below.


Search for Ten Commandments Books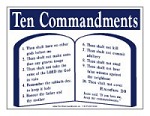 A web site featuring free 10 Commandments Magnets and Posters to be used by churches and schools




Back to

Children's Bible Lessons