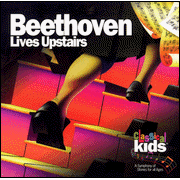 Beethoven Lives Upstairs - Audiobook on CD
By Classical Kids / Children's Book Store Dist.

In this tale of genius and childhood, an eccentric new boarder turns a young boy's life upside-down. Ludwig Van Beethoven has moved in upstairs! Young Christoph exchanges letters about the chaotic arrival of Mr. Beethoven and learns to appreciate and understand the great composer and his music. The CD features over two dozen excerpts from Beethoven's music including the Moonlight Sonata, Symphonies #5-9, Fur Elise, Pathetique Sonata, Flute Serenade, and Minuet in G Major.