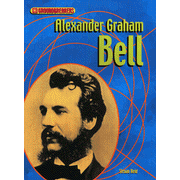 Groundbreakers: Alexander Graham Bell
By Struan Reid / Heinemann Raintree School

Why did Alexander Graham Bell learn sign language as a boy? How did he improve the telegraph? Why were all the telephones in North America silent for one minute in 1922?

The Groundbreakers series explores the lives of pioneering men and women--people whose achievements and discoveries have had a lasting impact on our world. Each book tells about the experiences that inspired these amazing individuals to think in new ways and discusses how the environment they lived in affected their work. Information on their supporters, colleagues, and rivals adds to the story. Finally, a look at the person's legacy shows how their achievements and discoveries continue to affect people today. Softcover, 48 pages. Grades 4-6.