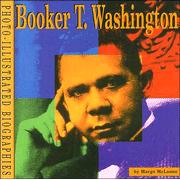 Booker T. Washington
By Coughlan Publishing

Discover the life of Booker T. Washington in this Photo-Illustrated Biography! Photographs and clear text highlight the most important aspects of his life, from his birth as a slave to his founding of the Tuskegee Institute and the ideas that he had for the betterment of the African American community. 24 pages with index, paperback. Ages 4-8.