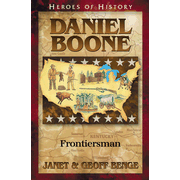 Heroes of History: Daniel Boone, Frontiersman
By Janet & Geoff Benge / Emerald Books

In search of open spaces and land to call his own, Daniel Boone fearlessly led a band of brave settlers into the bountiful Kentucky wilderness. Daniel's expert hunting ability, incredible outdoor survival skills, and courage under fire helped his companions stay alive in a dangerous and unknown land despite threatening encounters with soldiers, Indians, and even other settlers.

With consistent historical depth and an engaging narrative style, Heroes of History chronicles the remarkable true stories of fascinating men and women who changed the course of history.

Daniel Boone: Frontiersman

Book Preview (selected pages)