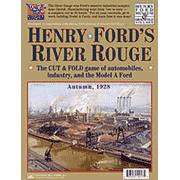 Henry Ford's River Rouge Game
By Chatham Hill Games

Henry Ford's River Rouge was Ford's massive and modern industrial complex, built near Detroit, that revolutionized manufacturing. The game allows for team or competetive play, with lots of potential problems in production and management to deal with. Can you beat the one day manufacturing record?