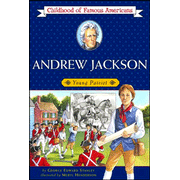 Andrew Jackson: Young Patriot
By George Edward Stanley / Simon & Schuster Trade Sales

The Childhood of Famous Americans series chronicles the early years of famous American men and women in an accessible manner. Each book is faithful in spirit to the values and experiences that influenced the person's development. History is fleshed out with fictionalized details, and conversations have been added to make the stories come alive to today's reader, but every reasonable effort has been made to make the stories consistent with the events, ethics, and character of their subjects.

This biography of the seventh president of the United States is the fascinating story of how one young man overcame the odds, became a military hero, and rose to the highest office in the land. Illustrations. Ages 8-12.