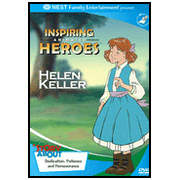 Inspiring Animated Heroes: Helen Keller, DVD
By Nest Family Entertainment

A childhood fever leaves the very bright Helen Keller deaf and blind, cutting her off from human communication. She becomes an angry, untamed child who often explodes into fist of savage fury. But he spirited Anne Sullivan breaks into Helen's dark and silent world and ends her awful isolation. Every child will be inspired by this story of how Helen is successful in overcoming obstacles of deafness and blindness and learns to communicate with the help of a patient teacher. A terrific way to teach a child about how to triumph over obstacles. Recommended for ages 4 to 8. Running Time: Approximately 45 minutes, Dolby Digital Stereo. Directed by Richard Rich, former Walt Disney Productions director.

Bonus Features:
Chapter Access
Sing-A-Long Activity
Excellence awards: The Dove Seal of Approval Award; Early Childhood Years Award, 11th Annual; Approved by Kids First: A Coalition for Quality Children's Media; Practical Homeschooling's highest rating; The Film Advisory Board "Award of Excellence."