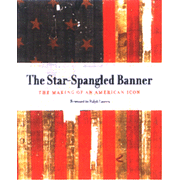 The Star-Spangled Banner: The Making of An American Icon
By Lonn Taylor, Kathleen M. Kendrick & Jeffrey L. Brodie / Harpercollins


More than just the tale of one flag and one song, The Star-Spangled Banner is the story of how Americans often in times of crisis have expressed their patriotism and defined their identity through the "broad stripes and bright stars" of our preeminent national symbol, a tradition that still thrives today. The original flag that inspired Francis Scott Key "by the dawn's early light" has been cared for by the Smithsonian since 1907. The dramatic story of this flag and of the Smithsonian's effort to save it for posterity are told here in this lavishly illustrated book that also explores the broader meaning of the flag in American life.