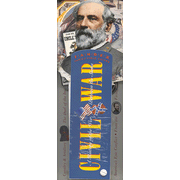 Fandex Field Guide: The Civil War
By Homeschool / Workman Publishing

Give your Civil War buffs a fascinating fingertip guide to America's epic conflict! Featuring 50 full-color die-cut cards, this hand-held history "book" covers everything from causes and outcomes, strategies and tactics, commanders and common soldiers, battles and weapons, hospitals, prisons, accoutrements, and more. Illustrated with compelling photographs, prints, paintings, and artifacts. Measures approx. 4" x 10.5".