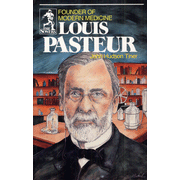 Luis Pasteur: The Founder of Modern Medicine, The Sowers Series
By Mott Media, Llc

This book traces in exciting detail the events in the life of Louis Pasteur. Learn about his early life as the son of a obscure country tanner. Experience his years of struggle as an unknown scientist. Enjoy his triumph as one of the world's most celebrated heroes. Recommended for ages 9 to 13.

In the Sowers Series, you can read for yourself, from the actual pen of these noted people form world history, of their relationship to Jesus Christ, and how that relationship affected their decisions and the course of human history! See history come alive, learn of the many hiding facts involving famous men and women from the pages of their diaries, letters to friends, the books they wrote, and more. You'll be amazed at what has been left out of our history books!