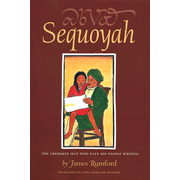 Sequoyah: The Cherokee Man Who Gave His People Writing
By James Rumford / Houghton-mifflin

This beautifully illustrated book is a "Robert F. Sibert Honor Book", and is filled with stark, colorful drawings of Sequoyah, the Cherokee people and land. The story of an illiterate man who invented the Cherokee written language, the text is fittingly written in both English and Cherokee. Sequoyah celebrates literacy, and the struggle of a people to stand tall and proud. 29 pages, hardcover with dust jacket.