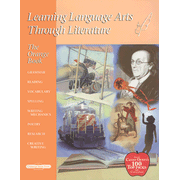 Learning Language Arts Through Literature, Grade 4, Orange, Teacher
By Debbie Strayer / Common Sense Press

With literature as a basis, this innovative program uses an integrated approach as it takes your students through all the activities needed to learn reading, grammar, vocabulary, spelling, writing, research, study skills, and more. Just turn to Lesson 1 and begin teaching. The authors have done the work for you in an easy-to-follow format with little or no preparation.

Features you will find in this book:
32 weekly lessons divided into daily plans.
4 book studies (listed in the order they appear): The Boxcar Children by Gertrude Chandler Warner; The Wright Brothers by Augusta Stevenson: Benjamin Franklin by Augusta Stevenson; and The Sign of the Beaver by Elizabeth George Speare. They include reading skills, vocabulary, higher-order reasoning and more.
Everyday words taken from literature teach grammar, spelling, and writing through dictation, activities, and games.
Newspaper Unit includes paragraph writing, vocabulary, research, creating a newspaper, and much more.
Research Unit includes fact-gathering, note-taking, and step-by-step instructions for writing research papers.
Journal Writing involves map making, caption creating, perspective writing, and more.
Creating Books allows your students to make their own books with simple, clear instructions for story writing and book binding.
Teacher-friendly assessments provide everything you need to evaluate students for a letter grade. Also great for determining the areas of growth needed for each individual student.
The Orange Book has been designed for a 4th grade skill level.