Teacher: "The first sentence is 'God made all things.'
God made..." (As you say each phrase, move your arm in an arc over your head from right to left. As the children observe your action while facing you, they will move their arc from left to right, which we want them to do).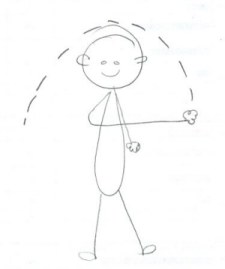 Class: (in unison) "God made...." (each child moves his/her arm in an arc as the phrase is repeated.) The students then write that phrase.
Teacher: "all things." (moving arm in an arc).
Class: "...all things." (moving arms in arcs) Students write that phrase.