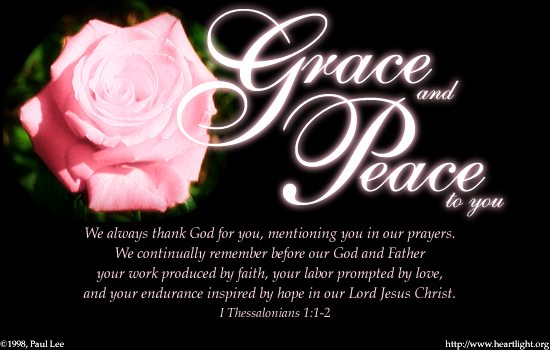 Dear friend, if you are a Christian, we praise God for you. If you are not, we urge you to study with us for a few moments. It can change your life.

1 Thessalonians 1:1-2

Paul, Silvanus, and Timothy, To the church of the Thessalonians in God the Father and the Lord Jesus Christ: Grace to you and peace from God our Father and the Lord Jesus Christ. We give thanks to God always for you all, making mention of you in our prayers,

2 Timothy 3:14-17

But you must continue in the things which you have learned and been assured of, knowing from whom you have learned them, and that from childhood you have known the Holy Scriptures, which are able to make you wise for salvation through faith which is in Christ Jesus. All Scripture is given by inspiration of God, and is profitable for doctrine, for reproof, for correction, for instruction in righteousness,that the man of God may be complete, thoroughly equipped for every good work.

Philippians 2:12-13

Therefore, my beloved, as you have always obeyed, not as in my presence only, but now much more in my absence, work out your own salvation with fear and trembling; for it is God who works in you both to will and to do for His good pleasure.