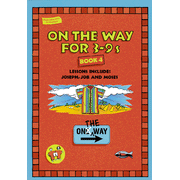 Joseph, Jacob and Moses, Book #4
By Christian Focus Public

We would all like our lesson plans on the Christian faith to be easier to prepare, balanced and effective. Do you also want your lessons to encourage children to view the Bible as a fascinating guide, utterly relevant to their lives? TnT have developed On the Way to be all that and more.. Book four lessons cover Joseph, Job and Moses. Series benefits include: Undated material; Encourages leaders to study the Bible for themselves; three age related activities; Chronological approach to teaching the Bible; Suitable for use in Sunday Schools, Homeschooling or as part of your Christian School syllabus.