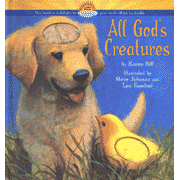 All God's Creatures
By Karen Hill & Steve Johnson / Little Simon Inspiration

God made all the animals, big and small. From zebras to puppies, He made them all! In this book to touch and feel, give God thanks for all the creature that make the world so beautiful. Each page has something for young children to touch. Recommend for ages 1 to 4.

Little Simon Inspirations are enriching, faith-based books that introduce, strengthen, and celebrate a child's relationship with God and prayer. They encourage children to learn more about Jesus and how He is present in their everyday lives.