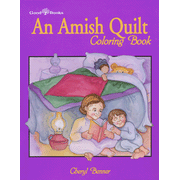 An Amish Quilt Coloring Book
By Cheryl Benner / Good Books

From the publisher: A charming children's coloring book inspired by Amish life. Children may participate in the beauty and grandeur of Amish quilts by coloring the pages of this lovely book. Some pages highlight the geometric patterns of quilts; some present quilts in scenes from Amish life. For ages 3-6.