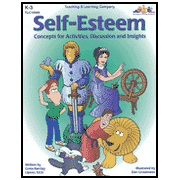 Self-Esteem: Concepts for Activities, Discussion and Insights K-3
By Greta Barclay Lipson / Teaching & Learning Co.

Self-Esteem is a tricky thing to teach, especially to children who may be dealing with difficult circumstances. This collection of stories, worksheets, crafts, discussion questions and activities will gently instill a sense of self-worth and appreciation. 96 reproducible pages, softcover. Grades K-3.