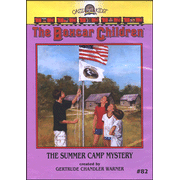 The Boxcar Children: The Summer Camp Mystery - Audiobook on CD
By Gertrude Warner / Oasis Audio Llc

Are some campers os desperate to win the Olympics that they are willing to cheat? Henry, Jessie, Violet, and Bennie Alden, the Boxcar Children, arrive at Camp Seagull, eager to begin a new week of making friends and participating in the annual camp Olympics. But someone is determined that they won't win! Can they find out who before the Olympics is ruined for everyone? Read by Aimee Lilly. Unabridged. 100 minutes. 2 CDs.