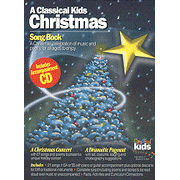 A Classical Kids Christmas Songbook & CD
By Children's Book Store Dist.

A Christmas celebration of music and poetry for all ages to enjoy. Featured is a Christmas concert with twenty seven songs and poems to present a unique holiday concert. There is also a dramatic pageant with set, costume, staging and choreography suggestions. Included are twenty one songs in SA or SS with piano or guitar accompaniment plus optional descants for Orff or traditional instruments, complete script including poems and stories to be read aloud over music or unaccompanied, and facts, activities, and curriculum connections.