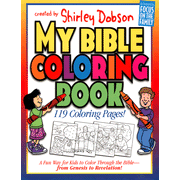 My Bible Coloring Book: A Fun Way for Kids to Color Through the Bible
By Shirley Dobson / Gospel Light

Now your kids can color their way through the Bible---from Genesis to Revelation! Accompanied by Scripture verses, black-and-white line drawings take your children on a journey through biblical history, teaching them about God's tender care along the way. A great way to stimulate your youngsters' imagination, creativity, and love for their heavenly Father. 120 pages, softcover from Gospel Light.