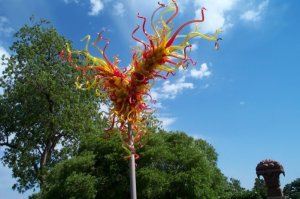 Enlarge
Work a Jigsaw Puzzle

When Chihuly works with his glass blowers on a project, he is definitely in charge of what happens, and they must do it exactly as he envisions it.

He likes creating outside displays such as those in botanical gardens because the choices for placement are varied.

He has about fifteen departments in his studio made up of teams who do the work. The glass-blowing team usually has a minimum of seven people. A very large exhibit requires more workers. On one project he had sixteen people on the glass-blowing team.
Chihuly Index
Jigsaw Puzzle on this pages courtesy of
Songs of Praise