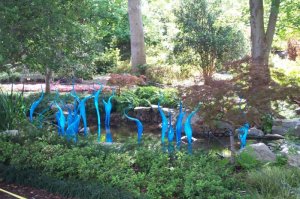 Enlarge
Work a Jigsaw Puzzle

He worked in Alaska as a commercial fisherman and saved his money to go to graduate school, then he went to Europe to Venice to study glass blowing. His first introduction to the use of glass had been with some experimenting weaving glass into tapestry.

Upon his return to the states he started the Pilchuck Glass School for teaching the art of glass blowing. He hired master craftsmen to come over from Europe to teach.

There are now more glass blowers in Seattle than there are in Venice.
Chihuly Index
Jigsaw Puzzle on this pages courtesy of
Songs of Praise