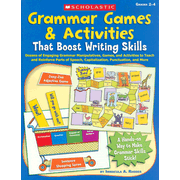 Grammar Games & Activities That Boost Writing Skills
By Immacula A. Rhodes / Scholastic Inc.

Make grammar skills stick with these simple-to-make, easy-to-play games! Packed with reproducible game boards, playing cards, markers, and more, this resource provides fresh, fun-filled activities on key topics such as capitalization, punctuation, parts of speech, plurals, contractions, and more. Includes suggestions for further learning; and correlates to language arts standards. Ages 7 to 10. 144 reproducible pages, softcover from Scholastic.