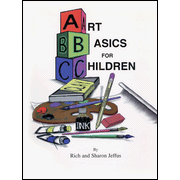 Art Basics for Children
By Rich Jeffus / Visual Manna

Teach your 6- to- 10-year-olds the nuts and bolts of art! Assigning a different alphabet letter to each lesson, this program introduces basic shapes---then demonstrates how to put them together to draw objects, animals, and people. While progressing through elementary drawing skills, students are exposed to black-and-white examples from various artistic movements. 48 reproducible pages, spiralbound softcover.