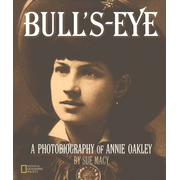 Bull's-Eye: A Photobiography of Annie Oakley
By Random House, Inc

Sharpshooter Annie Oakley, a beloved icon of American history, comes to life for a new generation. Born in the backwoods of Ohio, this remarkable woman overcame poverty and abuse to achieve worldwide fame as a daring performer and markswoman. Traveling with Buffalo Bill Cody's Wild West show, Annie delighted audiences throughout the U.S. and Europe with her target shooting, trick shots, and horseback riding stunts. Combining lively text, historical photos, and original quotes from Annie herself, Sue Macy reveals the gripping true story behind this legendary heroine. Ages 9-12.