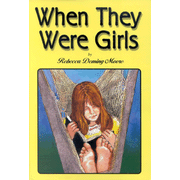 When They Were Girls
By Rebecca Deming Moore / A. B. Publishing

We know Clara Barton's dedication to suffering man. We've read Louisa May Alcott's,Little Women. Jane Adams started a house for destitute women in Chicago. The list goes on. But what kind of homes made these women great? What were the advantages these ladies of fame had as children? What was it like when they were girls?

When They Were Girls contains the stories of a group of American women, each one of whom occupies a very important place in her particular field. The stories of these women have been written many times before, but these stories focus on the girlhoods of these famous women. You'll read about: Louisa Alcott, Susan Anthony, Amy Marcy Cheney Beach, Frances Hodgson Burnett, Helen Keller, Frances E Willard, and many more. Recommended for ages 8 to 12.