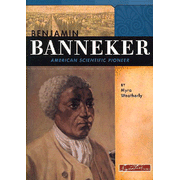 Benjamin Banneker: American Scientific Pioneer
By Coughlan Publishing

Learn about Benjamin Banneker's life and scientific accomplishments with this Signature Lives biography. Clear, informative text coupled with historic illustrations and photographs bring added depth, while historical context allows students to look at the era. An engaging portrait of a quiet genius. 112 pages, paperback. Timeline, index, glossary and "life at a glance" page included.