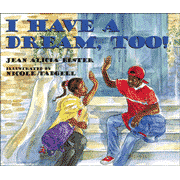 I Have a Dream, Too!
By Jean Alicia Elster / Judson Press

Follow ten-year-old Joe Joe Rawlings as he faces contemporary challenges with guidance gleaned from a rich cast of historical characters in this series of books written around Christian themes for African American children, ages 6-10. Joe Joe in the City deals in a realistic but age-appropriate manner with issues and challenges facing African American children and their families in an urban environment.
In this second installment, I Have a Dream, Too!, the serious-minded but likable Joe Joe faces friends who ridicule him for dreaming of going to college someday. While searching for answers, Joe Joe discovers a book about Mary McLeod Bethune, and influential African American woman who overcame poverty and illiteracy at an early age to found a college and become a government worker for the Franklin D. Roosevelt administration. Joe Joe Realizes that attaining his goal won't be easy either, but encouraged by his family and his faith, he chooses to pursue his dream in spite of peers who mock him.