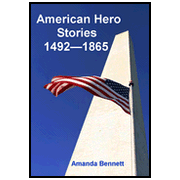 American Hero Stories CD-ROM
By Aabennett Books Inc

If you would like to help your children learn more about American history in a fascinating way, these new studies should help meet that desire. With interesting stories about Americans like George Washington, Davy Crockett, Kit Carson, and many more, this book will help students in 2 - 8th grades enjoy American history while laying a sound foundation for future study.

The stories used in these studies were originally published in the early 1900's, and were written almost 100 years closer to the lives of these heroes than those written today. I have taken the stories and shaped each one into a unique study. The stories are all here, along with some added features that have been included to help with the learning adventure. By having it in PDF format on CD-ROM, the pages are printable so that each student can have his/her own copy of the stories, to read along with you or on their own. They can put these stories in their own notebooks, along with other information that they want to include from the Internet resources that are included on the CD-ROM (they are clickable).

Perfect for a read-aloud book, this will offer interesting insight into many important people and places in American history. With 29 stories (160 pages), your children can work on one each week for 29 weeks, or read one story/study daily to learn more about American history and heroes over a six week period.