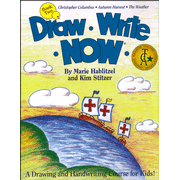 Draw Write Now, Book 2: Christopher Columbus, Autumn Harvest, The Weather
By Marie Hablitzel / Barker Creek

Explore the world with, Draw Write Now, a collection of drawing and handwriting lessons developed by an elementary school teacher and tested by over 800 children. The contents include: Colorful easy to follow drawing lessons. Text for practicing handwriting. Theme related questions, answers and book lists. A child friendly format. And countless ideas to spark children's imagination and creativity! In Book Two children explore Christopher Columbus, The Autumn Harvest and The Weather. One of eight books in the Draw Write Now Series by Barker Creek Publishing.