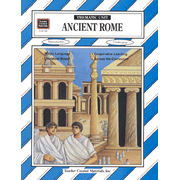 Ancient Rome, Thematic Unit
By Teacher Created Resources

Thematic Units make planning unit studies easy! Integrating cross-curricular topics with different works of literature, students will learn through reading, writing, listening, illustrating, and many hands-on activities. With units involving language arts, math, social studies, science, arts and crafts, movement and life skills, students will study both in-depth and with enthusiasm! Based upon well-received children's books, each section includes a summary, sample weekly plan, and overview of activities with ideas for setting the stage and enjoying the book. Cross-curricular step-by-step activities, reproducible blackline masters, worksheets, activities, and reinforcement exercises follow. Perfect for an enjoyable and simple-to-use thematic study for both student and teacher! 80 reproducible pages, softcover. Answers included. Grades 5-8.

This Thematic Unit focuses on Ancient Rome and uses the book Ancient Rome by Simon James .