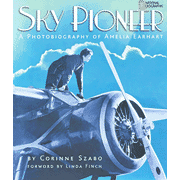 Sky Pioneer:A Photobiography of Amelia Earhart
By Corinne Szabo / Random House, Inc

Photographs, quotes and detailed text tell the story of Amelia Earhart, from her childhood in Iowa to her disappearance above the Pacific Ocean. Sky Pioneer looks at Amelia's motivations, her desire to fly, records, her goals for the future of women in America, as well as how she accomplished what she did. This photobiography is an informative and riveting account of one of America's great women. 63 pages, indexed, softcover.