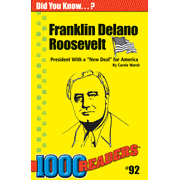 Franklin D. Roosevelt
By Carole Marsh / Gallopade International

This series correlates to state and national standards, teaching students about important people, places, and events in history! These readers are broken into short easy to read information reinforced by simple activities. Each reader includes a glossary, interesting facts, reading, puzzles, highlights of achievements, sequencing of important events, and simple math activities! 12 pages each. Grades K-4.