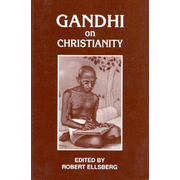 Gandhi on Christianity
By Mohandas Gandhi / Orbis Books

(From the Publisher): Mohandas Gandhi is widely revered as one of the great moral prophets of the twentieth century. This book focuses on a less well-known area of his interest: his engagement with Jesus and Christianity. Throughout his life, Gandhi conducted an ongoing dialogue with Christian believers and missionaries. As a faithful Hindu, he was unwilling to accept Christian dogma. In Jesus, however, he recognized and revered on of history's great prophets of nonviolence. His criticism of contemporary Christianity was the failure of most Christians to embody the radical and revolutionary faith and action of Christ.