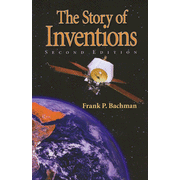 The Story of Inventions, Second Edition
By Frank P. Bachman / Christian Liberty Press

Now updated, The Story of Inventions covers key innovations from the 15th through the 20th century. Divided into four sections: Power, Manufacturing & Production, Communications, and Transportation, chapters focus on the invention as well as the life of the inventor, weaving together true-life stories in a format enjoyable for young and old. Learn about the printing press, steel, computers, steamboats and other inventions that paved the way for the growth of our modern world. Comprehension questions follow each chapter. 280 pages, softcover. Upper elementary grades.