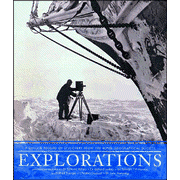 Explorations: Great Moments of Discovery from the Royal Geographic Society
By Workman Publishing

Since earliest days, humans have found it impossible to resist the allure of the unknown. The reasons are as different as the people are. Here, in one volume, Explorations captures in photographs and interviews the expeditions and emotions of some of the most daring adventurers of the last century.

Organized according to geographical region, and accompanied by essays by such famous names as Wilfred Thesiger, Richard Leakey, and Edmund Hillary, the photographs offer a fascinating glimpse of the world's varied landscapes and habitats, its peoples, and ways of life. Some of the pictures recall historic moments in time -- Scott finding Amundsen's empty tent at the South Pole, Tenzing Norgay photographed by Hillary on the peak of Everest, the ferryman who took David Livingstone across the river on the last day of his life. Other pictures are remarkable as records of vanished or vanishing peoples, or simply as beautiful pieces of art. Paperback, 339 pages.