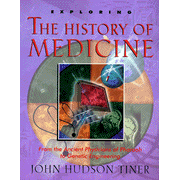 Exploring the History of Medicine
By John Hudson Tiner / New Leaf Press (master Books)

Innovative surgeries, plague-stopping vaccines, revolutionary antibiotics, and "miracle drugs" . . . Throughout human history---by God's grace---medicine has improved by leaps and bounds. Loaded with facts, mini-biographies, and historical illustrations, this fascinating resource helps students aged 8 to 12 gain a biblical perspective on the history of healing, from ancient times until today. Includes chapter tests and index. 161 pages, softcover from Master Books.