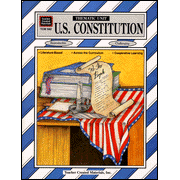 U.S. Constitution, Thematic Unit
By Teacher Created Resources

Thematic Units from Teacher Created Materials are literature based, cross-curricular, and ready to use. They provide activities, many of them hands-on, for all areas of the curriculum, including math, science, language arts, social studies, physical education, art, and music. Each book offers two or more literature-based units and lesson plans plus cross-curricular activities and worksheets, a culminating activity, management ideas, and a bibliography. The books used in this unit (that need to be purchased or borrowed) are: Shh!We're Writing the Constitution by Jean Fritz, We the People by Peter Spier, and The Great Little Madison by Jean Fritz. Complete and comprehensive, these reproducible units are designed with student interest and teacher usability in mind. The planning is complete.