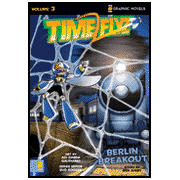 Berlin Breakout, TimeFlyz, Volume 3
By Ben Avery / Zonderkidz

They're chasing a time-traveling spider, trying to stop him from kidnapping more geniuses and scientists. After failing a few times, the TimeFlyz and Laurel (their human companion who can shrink down to their size as well as fly when at that size) wind up in Nazi Germany and find themselves with a double mission. Lise Meitner, a Jewish physicist working at Kaiser Wilhelm Institute for Chemistry, is the spider Darchon's next target, but only if the Nazis don't get to her first! This series is packed with action and intrigue, and this issue is no exception.