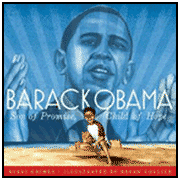 Barack Obama: Son of Promise, Child of Hope
By Nikki Grimes / Simon & Schuster Books for Young Readers

Raised in Jakarta and Hawaii, Barack Obama has become a force for social change, first as an Illinois Senator and now as candidate for President of the United States.

This first-ever picture book about Obama follows his life from Hawaii to Chicago to Indonesia to Kenya. The elements of Barack Obama's life are explored in picturesque imagery, in the loose form of a conversation between a mother and her son living in a tenement house. With watercolor & collage illustrations and poetic text, this unique story of Barack Obama will introduce children to the basic framework of his life. 40 pages.