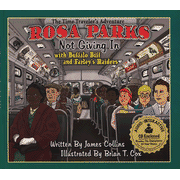 The Time Traveler's Adventure: Rosa Parks; Not Giving In with Buffalo Biff and Farley' Raiders, Book with CD
By James Collins / Toy Box Productions

On December 1, 1955, seamstress Rosa Parks changed America forever when she was arrested for refusing to give up her seat to a white patron on a Montgomery, Alabama city bus. She was found guilty of disorderly conduct, which lead directly to the famous Montgomery Bus Boycott. Join the Raiders as they time-travel to the 50s getting a close-up view of this brave and humble woman and learn of her many following years working to educate and improve equal rights for America's citizens.

An audio CD that comes with this book tells the story in a fun, educational way, and is loaded with exciting sound effects. Then the story repeats 3 times, leaving out one main character's part for the reader to fill in to become the character of their choice. Recommended for ages 5 to 9.