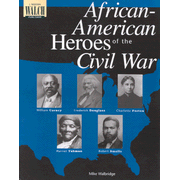 African-American Heroes of the Civil War
By Mike Walbridge / Walch Education

Explore the untold stories of African Americans who played a role in our nation's bloodiest conflict. Written with the National Standards for U.S. History in mind, this reproducible book brings to light the valuable contributions of 20 African Americans during the American Civil War. Six engaging in-depth biographies explore the rich lives of Andr&#233 Cailloux, William Carney, Robert Smalls, Frederick Douglass, Harriet Tubman, and Charlotte Forten. Additional mini-biographies describe the roles played by 14 other African-American heroes, including Martin Delany, Sojourner Truth, and Francis Dumas. You will also find extensive teacher notes, worksheets for building comprehension skills, suggestions for culminating assessment projects, and more. Grades 6-9.