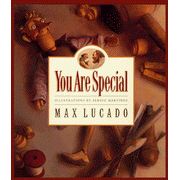 Max Lucado's Wemmicks: You Are Special, Picture Book
By Max Lucado / Crossway Books

Punchinello is a chipped, ugly puppet who thinks he's not worth much; that is, until Eli the Woodcarver helps him understand how special he is---marks and all. Originally published in Tell Me the Secrets, this delightfully illustrated tale shows your kids that no matter how the world evaluates them, God loves them just as they are. 32 pages, hardcover from Crossway Books.