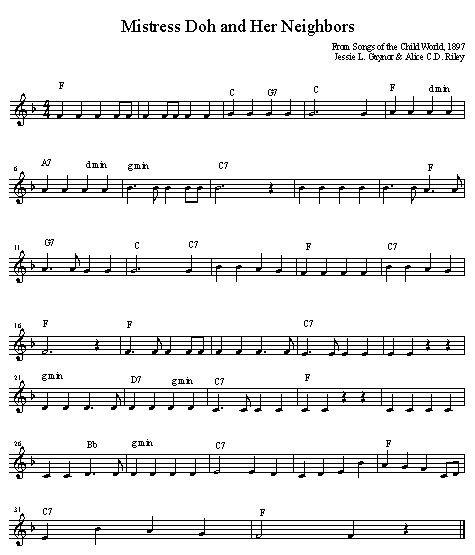 Mistress Doh and Her Neighbors

Doh lives here in a wee little house and Ray lives right next door;
Then Me comes next whose dearest friend is Fah the last of the four;
Fah stays always close to Me and Me to Ray does say,
"We'll go to visit Mistress Doh, this bright and sunny day."

Close to Doh, on the other side, lives Te her next door neighbor,
Then come Lah a woeful chap, then Soh so strong and able.
Soh goes quickly back to Lah and Lah walks into Te's house,
And all these neighbors, near and far, go to call at Mistress Doh's house.





Mistress Doh and Her Neighbors is a song about the different degrees of the major scale.
The spelling is different from the spellings you will find today for these sounds.
You may be more familiar with DO, RE, MI, FA, SO, LA, TI, and DO.

The melody sounds very simple, but is really very nice when you add the automatic chords of the synthesizer.




Back to Song Arrangements
Back to Keyboard and Music Theory Lessons

Home