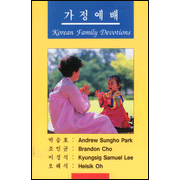 Korean Family Devotions
By K. Samuel Lee / Upper Room

From the publisher: Korean Family Devotions is a collection of weekly meditations written in the Korean language, with an accompanying English translation. In addition, this book includes hymns, prayer, and inspiring meditations that explore themes such as love, vision, and forgiveness. paper.