These FREE online tests were designed to accompany lessons that appear on Garden of Praise.
Teachers may register and allow the students in their classes to take the tests which will be computer graded.
The teacher can then print out the resulting grades. There is also a printable version of each online test.
The
ART LESSONS
can be found at
Famous Paintings
The
BIBLE LESSONS
are at
Children's Bible Lessons
The
BIOGRAPHIES
can all be found at
Biographies for Kids
The online biography tests are very detailed. It will be helpful if students study the biography carefully,
and if possible work some of the accompanying activities
before
taking the online test.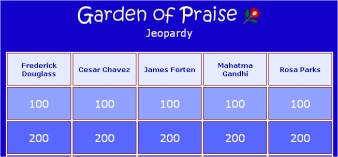 The newest activity,
Jeopardy
, as well as the other activities can be used as practice before taking the tests.
Thanks to my son and daughter-in-law, Elton and Leslie Smith for helping to produce these activities.
Visit them at
Songs of Praise
.
These online tests can also be used in reading classes to teach reading comprehension and reading for detail.
All the material at Garden of Praise is free without subscription.
If you have benefited and would like to help maintain the site,
use the button below and I will send a mailing address.


Teachers, register or login to administer your classes.
There are currently 236 tests and 16623 registered users.
Bible Lesson tests have been taken on this site 118831 times with an average grade of 86.7.
Biography tests have been taken on this site 118624 times with an average grade of 77.9.
Art lesson tests have been taken on this site 20604 times with an average grade of 82.6.



Art Lessons

Albert Bierstadt
online test
print test
Albrecht Durer
online test
print test
Anthony Van Dyck
online test
print test
Claude Monet
online test
print test
Diego Rivera
online test
print test
Diego Velazquez
online test
print test
Edward Hicks
online test
print test
Edward Hopper
online test
print test
Emanuel Gottlieb Leutze
online test
print test
Francisco Goya
online test
print test
Georges Seurat
online test
print test
Georgia O'Keeffe
online test
print test
Grandma Moses
online test
print test
Hans Holbein, the Younger
online test
print test
Henri Rousseau
online test
print test
James Abbot McNeill Whistler
online test
print test
Jan Van Eyck
online test
print test
Jan Vermeer
online test
print test
Jean Francois Millet
online test
print test
Jean-Honore Fragonard
online test
print test
Leonardo da Vinci
online test
print test
Mary Cassatt
online test
print test
Michel­angelo
online test
print test
Newell Convers (N.C.) Wyeth
online test
print test
Norman Rockwell
online test
print test
Paul Cezanne
online test
print test
Paul Gauguin
online test
print test
Peter Paul Rubens
online test
print test
Pieter Bruegel, the Elder
online test
print test
Pieter de Hooch
online test
print test
Raphel
online test
print test
Rembrandt Van Rijn
online test
print test
Renoir
online test
print test
Sir Joshua Reynolds
online test
print test
The Limbourg Brothers
online test
print test
Thomas Gains­borough
online test
print test
Titian
online test
print test
Vincent Van Gogh
online test
print test
Winslow Homer
online test
print test

Bible Lessons

Abraham
online test
print test
Alive Again!
online test
print test
Barnabas
online test
print test
Cornelius
online test
print test
Daniel
online test
print test
David and Goliath
online test
print test
David and Jonathan
online test
print test
Down Through the Roof
online test
print test
Elijah
online test
print test
Elizabeth, Mother of John
online test
print test
Esther
online test
print test
Eve, Mother of All Living
online test
print test
Friends of Jesus
online test
print test
Giving
online test
print test
Going to Jerusalem
online test
print test
Hagar
online test
print test
Hannah
online test
print test
Healing at the Pool of Bethesda
online test
print test
Heaven
online test
print test
Jacob
online test
print test
Jericho
online test
print test
Jesus and Nicodemus
online test
print test
Jesus Cleanses the Temple
online test
print test
Jesus Feeds the Multitude
online test
print test
Jesus Leaves Earth
online test
print test
Jesus' Last Days
online test
print test
Jochebed, Mother of Moses
online test
print test
John the Baptist
online test
print test
Jonah
online test
print test
Joseph
online test
print test
Joseph and His Brothers
online test
print test
Leah, Unloved Wife of Jacob
online test
print test
Lydia
online test
print test
Mary, Mother of Jesus
online test
print test
Moses
online test
print test
Naaman
online test
print test
Noah
online test
print test
Noah's Wife
online test
print test
Parable of the Talents
online test
print test
Parable of the Ten Virgins
online test
print test
Parables of Jesus
online test
print test
Paul a Prisoner in Rome
online test
print test
Paul Before the Governors
online test
print test
Paul in Athens
online test
print test
Paul in Damascus
online test
print test
Paul in Jerusalem
online test
print test
Paul Leaves Ephesus
online test
print test
Paul Visits Corinth
online test
print test
Paul's First Missionary Journey
online test
print test
Paul's Second Missionary Journey
online test
print test
Paul's Shipwreck
online test
print test
Paul's Third Missionary Journey
online test
print test
Peter and Dorcas
online test
print test
Peter and John
online test
print test
Peter Confesses Christ
online test
print test
Peter's Escape From Prison
online test
print test
Peter's Vision
online test
print test
Pharaoh's Daughter
online test
print test
Pharisees and Sadducees
online test
print test
Philip
online test
print test
Rachel
online test
print test
Rebekah, Wife of Isaac
online test
print test
Ruth
online test
print test
Sarah, the Wife of Abraham
online test
print test
Solomon
online test
print test
Stephen
online test
print test
Ten Lepers
online test
print test
The Baptism of Jesus
online test
print test
The Beatitudes
online test
print test
The Blind Man
online test
print test
The Child Jesus
online test
print test
The Conversion of Saul
online test
print test
The Creation
online test
print test
The Exodus
online test
print test
The Gospel Train - Baptism of Jesus
online test
print test
The Gospel Train - BLDG
online test
print test
The Gospel Train - FFNJJ
online test
print test
The Gospel Train - WELL
online test
print test
The Gospel Train 30 Years
online test
print test
The Gospel Train CC
online test
print test
The Judges
online test
print test
The Miracles of Jesus
online test
print test
The Philippian Jailer
online test
print test
The Raising of Lazarus
online test
print test
The Rich Young Ruler
online test
print test
The Riot in Ephesus
online test
print test
The Teachings of Jesus
online test
print test
The Temptation of Jesus
online test
print test
The Ten Command­ments
online test
print test
The Twelve Spies
online test
print test
Three Brave Boys
online test
print test
Tongues of Fire
online test
print test
Zacchaeus
online test
print test

Biographies

Abraham Lincoln
online test
print test
Albert Einstein
online test
print test
Albert Schweitzer
online test
print test
Alexander Graham Bell
online test
print test
Alexander the Great
online test
print test
Amelia Earhart
online test
print test
Andrew Jackson
online test
print test
Anne Frank
online test
print test
Annie Oakley
online test
print test
Ansel Adams
online test
print test
Aristotle
online test
print test
Barack Obama
online test
print test
Benjamin Banneker
online test
print test
Benjamin Franklin
online test
print test
Booker T. Washington
online test
print test
Calvin Coolidge
online test
print test
Cesar Chavez
online test
print test
Christ­opher Columbus
online test
print test
Clara Barton
online test
print test
Cyrus McCormick
online test
print test
Dale Chihuly
online test
print test
Daniel Boone
online test
print test
Dean Kamen
online test
print test
Deborah Sampson
online test
print test
Donald O'Neal
online test
print test
Dwight D. Eisenhower
online test
print test
Eleanor Roosevelt
online test
print test
Elizabeth Keckly
online test
print test
Ernest Hemingway
online test
print test
Florence Nightin­gale
online test
print test
Francis Scott Key
online test
print test
Franklin Delano Roosevelt
online test
print test
Frederick Douglass
online test
print test
Galileo
online test
print test
George Müller
online test
print test
George Washington
online test
print test
George Washington Carver
online test
print test
Greg Mortenson
online test
print test
Gutenberg
online test
print test
Gutzon Borglum
online test
print test
Harriet Tubman
online test
print test
Harry S. Truman
online test
print test
Helen Keller
online test
print test
Henrietta Lacks
online test
print test
Henry Ford
online test
print test
Hippo­crates
online test
print test
Increase Mather - Salem Witch Trials
online test
print test
Isaac Newton
online test
print test
Jack Kilby
online test
print test
James Forten
online test
print test
James Madison
online test
print test
James Monroe
online test
print test
Jimmy Carter
online test
print test
Joan of Arc
online test
print test
John Adams
online test
print test
John Chapman
online test
print test
John F. Kennedy
online test
print test
John James Audubon
online test
print test
John Muir
online test
print test
Kit Carson
online test
print test
Laura Ingalls Wilder
online test
print test
Lise Meitner
online test
print test
Lou Gehrig
online test
print test
Louis Pasteur
online test
print test
Ludwig van Beethoven
online test
print test
Lyndon Baines Johnson
online test
print test
Madam C.J. Walker
online test
print test
Mahatma Gandhi
online test
print test
Malala Yousafzai
online test
print test
Margaret Thatcher
online test
print test
Marie Curie
online test
print test
Martin Luther King Jr.
online test
print test
Martin Van Buren
online test
print test
Mary Ann Shadd Cary
online test
print test
Mary McLeod Bethune
online test
print test
Matthew Henson
online test
print test
Meri­wether
online test
print test
Michael Faraday
online test
print test
Michael Phelps
online test
print test
Molly Pitcher
online test
print test
Nelson Mandela
online test
print test
Nikola Tesla
online test
print test
Noah Webster
online test
print test
Norman Borlaug
online test
print test
Phillis Wheatley
online test
print test
Robert Peary
online test
print test
Ronald Reagan
online test
print test
Rosa Parks
online test
print test
Sadako Sasaki and the Paper Cranes
online test
print test
Samuel Clemens (Mark Twain)
online test
print test
Sequoyah
online test
print test
Sir Edmund Hillary
online test
print test
Sojourner Truth
online test
print test
Susan B. Anthony
online test
print test
The Wright Brothers
online test
print test
Theodore Roosevelt
online test
print test
Thomas Edison
online test
print test
Thomas Jefferson
online test
print test
Tiger Woods
online test
print test
Walter Reed
online test
print test
William Wilber­force
online test
print test
Wilma Rudolph
online test
print test
Winston Churchill
online test
print test
Wolfgang Amadeus Mozart
online test
print test